The Use of Gold in Asian- Australian Contemporary Art

Written by Mikelle Miller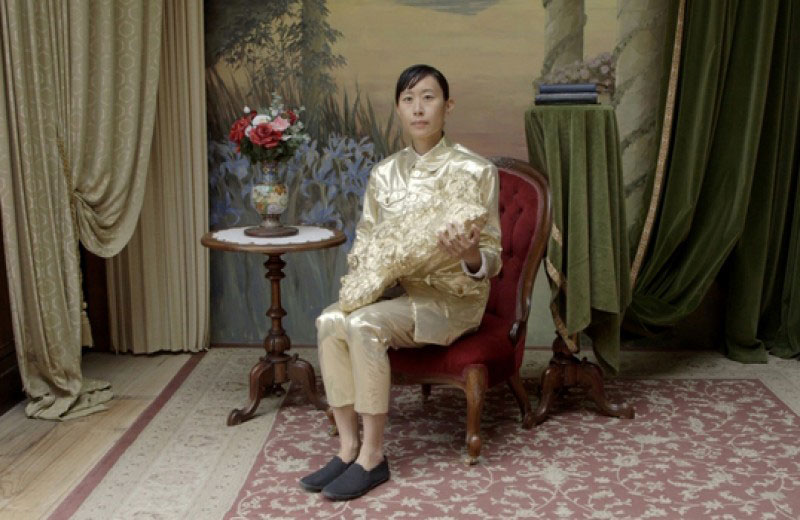 In The Use of Gold in Asian- Australian Contemporary Art I will be addressing the practice of Asian- Australians artists in relation to material histories; specifically, how they use materiality to shine a spotlight on the underlying meaning in their work. In this paper I traverse the work of Eugenia Lim, especially her video performance work Yellow Peril (2015), which highlights the complexities of Chinese immigration to Australia, and People's Currency (2017), which explores the social impacts of globalisation and capitalism. Both works are from her acclaimed Ambassador series (2015-2017). I also explore the work of Janelle Low, particularly the utilisation of gold in her artwork and how that creates a diverse symbolic meaning in her contemporary practice. Lastly, I will be touching on Lindy Lee's work, mostly focused on her bronzes sculptures and how she relates her practice to her spirituality.

Both Low and Lim's use of gold contains complex multi-layered aesthetics and meaning. In Yellow Peril (2015), Lim takes on the persona of the Ambassador as she explores the Sovereign Hill Theme Park. The site's materials hold symbolic value by depicting life in the 1850's Gold Rush. Filming in this time capsule theme park draws the audience's attention to the experience of many Chinese first generation migrants and the social price they paid seeking fortune in Australia (Bambach 2018). As Lim stoically partakes in the park activities, she's encouraging the audience to contemplate Australia's past historical, political and social dynamic with China (Blair 2015). In this manner, materiality is being used to highlight the displacement and exclusion between Chinese immigrates and the Westernised narrative of the gold rush.

Similarly, Janelle Low commentates on a sense of exclusion on a personal level by sharing her experience as an Asian-Australian citizen. Her practice consists of print, mix media and photography in her arts practice to create bodies of works like At Your Surface (2018) and Disintegrate (2017). Low uses archival family photographs subverting and obscuring her family portraits by using a gold leaf. Traditionally gold leaf was utilised in portraits of deities and religious paintings as it symbolised the sacred. In Low's work the gold is seen as a hinderance as it is used to obscure the faces of the portraits, evidently creating a feeling of 'otherness' or displacement in her work.

Low's At Your Surface (2018) project was featured in the group exhibition Disobedient Daughters (2018/2021) curated by Sophia Cai. The work itself depicts three bridal images whose faces are obscured by gold leaf stripping away any means of identification. Accompanying these prints are several handmade cups decorated with gold leaf. The work depicts three brides with their faces obscured by gold leaf. Their identities have been stripped away producing a compelling sense of the objectification of Asian women and their loss of individuality under the weight of societal expectations to marry. Accompanying these prints are several handmade cups decorated with gold leaf. According to Low's website, the gold cups symbolised the ceremonial cups used to serve the parents and grandparents of the couple. Again, referencing Low's website, the cracking fragility of porcelain is used as a way to subvert the tradition of 'fine china' and the hand-made nature of the cups is trying to reclaim a sense of individuality and imperfection.

The material of Lim's suit is an eye-catching gold, an ironic commentary on the precious metal that drew both Chinese and Anglo fortune seekers to Australia like a magnet. The style is distinctly Chinese and Mao-like which has been appropriated through the use of the gold fabric. The suit's design is purposely created to be androgynous as the ambassador has an ambiguous gender. The performance of Yellow Peril itself symbolises the great number of cross-cultural and multi-temporal links across historical Australian- Chinese relations that are still with us today (Warren 2016).

Materiality is being used to highlight the absurdity of the situation, perhaps the excessive value placed on gold across centuries of human existence or humanity's extreme devotion to the pursuit of wealth. By being photographed in the futuristic gold suit while also being placed in an archaic set creates a sense of displacement and fragmented identity.

Similarly, this sense of fragmented identity can be seen in Low's Disintegrate. Again, Low's old black and white family portraits are obscured by a bright gold leaf over faces. By covering the faces there is a feeling of 'otherness' and the audience has a strange sense of disconnect from the family. This displaced identity can be seen in Low's own struggle to fit into both her Asian and Australian heritage. Lim is also capturing the concept of displaced identity but in a historical context.

At the end of the Yellow Peril video Lim's character is depicted holding a replica of the 'Welcome Stranger" nugget found in 1869. By having her persona be the one to discover the worlds' largest gold nugget, Lim is undermining the ideological foundation of Australian whitewashed history (Blair 2015). Again, there is a sense of the absurd here, the tourists at the theme park are caricatures of those who battled severe hardships to filter and sift in the mud, recovering mere specks of gold most of the time, and yet the central character, Lim in the gold suit, happens upon a lump the size of a pillow. She holds it in her lap and the gold is camouflaged, blending in with her clothing, indistinguishable from it—there is no lustre, no sparkle and this lump of matter has disappeared within the shape of the gold suit. It seems to suggest that this record chunk of the world's most precious substance, has become part of her, taken over her individuality, who she is. In a way, the gold rush has subsumed humanity. In this sense, we can see that the materiality of Lim's practice underpins and enhances the rich social and historic commentary that abounds in this work.


The second part of The Ambassador series is a performance work called The Peoples Currency (2017). Lim shape shifts into the Ambassador persona once again to explore themes of consumerism, poor labour conditions and the exploitation of the average worker. Rather than travelling through time Lim sets up her own workshop with a production line and the ambassador changes from the silent observer to the loud boss. As the chairman of the company she hires random people and asks them to participate as short-term employees. Her pop- up factory creates counterfeit money and ceramic goods that look like electronic devices. The participants complete repetitive tasks and at the end of their shift and depending if Lim is impressed by their work they are paid with the counterfeit money produced from the factory. In this work Lim challenges the 'Made in China' stereotype and impacts of global capitalism particularly here in Australia. The use of gold appears again in this work, its shiny metallic surface used as tablecloths in the pop-up factory. It symbolises Chinese labourers seeking jobs to create a fortune that will sustain them in the workshops of the world.

The ceramic pieces themselves look like smart phones and with this iconography Lim is questioning both the side of the labourer and the consumer. These 'iDevices' are symbols of self-enslavement, immaterial labour and appendages – digital extensions of our physical and psychological selves" (Lim 2017). Once again this feeling of alienation comes into play, as the worker is seen as a nameless identity and seen as less than the money made for the company and the consumer goods themselves. For example, when purchasing a new iPhone the consumer does not see the factory production line, poor wages and long work hours that went into creating the phone.

Like Low, Lim also uses gold leaf in this work as part of the aesthetic on the counterfeit money. In her Mao-like persona, Lim features in the centre of the counterfeit money, imitating China's own currency Renminbi. The gold leaf is marked over Lim's face effective distorting her picture. It is also used to decorate the 'idevices' and forms part of the menial tasks set out for the participants.

Correspondingly, Lindy Lee is a renowned Chinese-Australian artist particularly known for techniques of wax splatter and ink pours. Lee uses her Buddhist faith as an interregnal part of her practice, which effectively gives her work a deep philosophical and self-reflecting edge. According to Lee's own website, her signature technique calls up the ancient Chinese practice of 'flung ink painting', as performed by Zen Buddhists. In her practice, Lee utilises a bronze gold, making sculptures by way of the 'flung ink' technique but using molten bronze instead of ink as the material. She also creates unique sculptures by throwing the hot bronze onto the floor. By doing this Lee is referencing the Buddhist act of release (Lee 2012).
In her sculptural work
Strange Condensations
(2020), due to the fluidity of the boiling metal the sculptures final form is left up to chance (Lee, 2020). She embodies her own practice when flinging the bronze as she describes it as release of control. Due to the high heats of the metal the handling of it can be dangerous but also, in her own words, exhilarating. The fluidity of the bronze and the bodily nature of the throw can reference the fluidity of one's own identity (Tulloh, 2012). When reviewing her work Julia Tulloh, makes note that as she meditates on constellation of bronze sculptures images like cats, waves and antlers begin to pop out. By viewing the work the splattered bronze creates an infinite imagery and stories absorbed from the viewers personal experience (Tulloh 2012) On her website, Lee states as a Chinese-Australian it has always been critical to envision the experience of Chinese diaspora in a country that has historically whitewashed its multiculturalism.
In summation, each artist effectively provides commentary on the Asian Australian experience and challenges pre- existing notions relating to materials. Each artist utilise gold in different but effective ways. Lim uses its symbolised to re-writes a traditionally white-washed history and explores the effects of globalisation and capitalism, while also touching on the feeling of displacement from that comes with immigration. Low uses gold to examine her own personal identity particularly the feeling of 'otherness' that comes from shifting between Asia and Australia. She also uses it to subvert entrenched stereotypes and challenge high expectations place on Asian women. Lim subverts gold from a traditionally hard metal to a fluid almost water like material. The three artists effectually study how the human body and the metal gold can relates to one other and is more interested in the viewer personal experience with the work and how it relates to a collective experience.
---
Figure 1: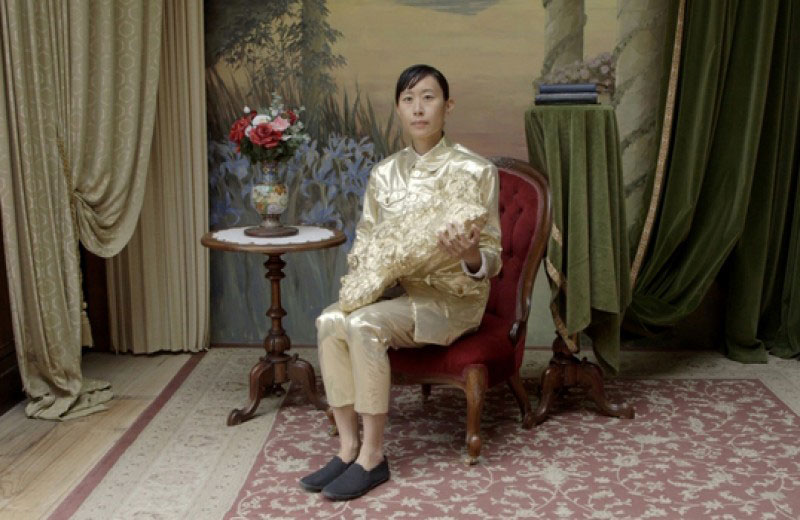 by Eugenia Lim, 2015. Photo by Zan Wimberley 
Figure 2:
by Janelle Low, 2018. Inkjet print with gold leaf embellishments and gold lustre. 
Figure 3:
by Eugenia Lim 2017. Photo by Zan Wimberley 
Figure 4: Strange Condensations by Lindy Lee 2020. Flung Bronze. Installation view, Lindy Lee: Moon in a Dew Drop, Museum of Contemporary Art Australia. © the artist, photograph: Anna Kučera. Image Source:
Concrete Playground
.
---
---
Blair, U 2015, 'Yellow Peril' Catalog Essay, viewed 3rd April, <
www.sun- streamingstudio.com/eugeniadev/wp-content/uploads/2019/12YellowPerilEssay.pdfDowse N, 2020
>.


Bamach, A 2018, 'Eugenia Lim, The Ambassador', Museums & Galleries of NSW. viewed 1st April 2021, <mgnsw.org.au/wp-content/uploads/2019/09/ EL_Education_Resource.pdf>.

King, N & Lim, E & Tai M 2019, Eugenia Lim The Ambassador, exhibition catalogue, 4A Centre for Contemporary Art/ Museums & Galleries of NSW.

Kot, J 2021, 'How Australian Chinese Artist Lindy Lee Found Harmony Through Art', COBO, blog post 2 March 2021, viewed on 6 October 2021 <www.cobosocial.com/dossiers/how-australian-chinese-artist-lindy-lee-found- harmony-through-art/>.
Lim, L 2020 Lindy Lee: Moon in a Dew Drop, sound recoding, courtesy the artist and Museum of Contemporary Art Australia, Sydney.

Low, J 202, 'Disobedient Daughters', Exhibition catalogue, Counihan Gallery, Brunswick.

Low, J Janelle Low, viewed on 6 August 2021 <www.janellelow.com/? page_id=259Nelson R, 2015 "Eugenia Lim's Yellow Peril exhibition at BUS Projects mines living history>
Nelson, R 2015, 'Eugenia Lim's Yellow Peril', The Sydney Morning Herald, viewed 3 April 2021 <www.smh.com.au/ entertainment/art-and-design/eugenia-lims-yellow-peril-exhibition-at-bus-projects- minesliving-history-20150414-1mk71l.html>.

Tulloh, J 2012 'My Shadow flows into the world: Lindy Lee and explorations of self', Kill Your Darlings Journal.

Warren, K 2016, 'Anachronistic Histories: Eugenia Lim's Yellow Peril', Australian and New Zealand Journal of Art, Canberra Vol.16 no. 2. pp. 264-272.

Wild, C 2014, 'Lindy Lee: The Dark Of Absolute Freedom', Exhibition catalogue, The University of Queensland Art Museum.

Yohan, M 2011, 'Toward a Fusion of Art History and Material Culture Studies', West 86th, vol. 18 no. 2.
---